With an average price of VND 1.4 billion / commercial service apartment with an area of ​​50 m2, with the average rental price in the region ranging from VND 12-15 million / month, investors can earn benefits. ie 10 – 13% per year, this is a profitable and sustainable investment channel between the market for serviced apartments in Ho Chi Minh City. Ho Chi Minh is increasingly scarce.
From the office apartment market for potential start ups …
Jones Lang LaSalle (JLL) Vietnam has just announced the office market newspaper in Ho Chi Minh City in the third quarter of 2018 with the continued increase in rental rates. Office supply is not enough to meet demand, which is the reason why rental prices are becoming more and more expensive.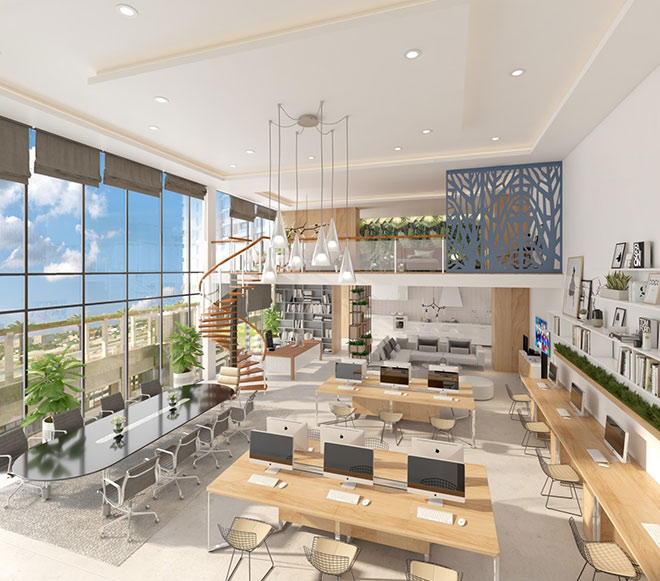 In the past 3 months, the average gross rent of Grade A office towers is about 50 USD per m2 per month, up nearly 7% over the same period last year. However, the highest gross rents of towers with prime locations on gold land recorded up to 70 USD per m2 per month. This is a record high rent for nearly half a decade.
Mai Chi currently owns 12 commercial service apartments for rent in the South area, saying that about 2 years ago, she spent about 8 billion VND to buy 4 commercial service apartments with area of ​​about 40 m2 in the area. Phu My Hung. Currently, her serviced apartments have been put into operation and leased at a price of 800 USD / month, calculated that every year she earns about 11% of profits.
The birth of many opportunities to start up office apartments is growing
More and more young start-ups and technology companies have been born, and foreign small businesses have started to develop in the city market. Ho Chi Minh City in recent years, so the demand for commercial service apartments is very developed, together with the market can not meet the number so the supply is becoming scarce.
Mr. Phong Lan (34 years old) – CEO of Commercial office leasing company, said that only in the beginning of the year, did his company receive thousands of small and medium-sized companies to rent serviced apartments and rents. offices in districts 1 and 3 also jumped to an average threshold of USD 30-40 per m2 per month. The occupancy rate of the office is currently located in the central area, which is also occupied by 96.5%.
"Because the supply in the central offices is tight, so in the near future office centers will move concentrated in the developed neighborhood such as Thao Dien or Phu My Hung. Catching that trend, his company contacted many investors owning commercial service apartments to cooperate in leasing. "Anh Lan added.
Arriving to catch the market beat of real estate businesses.
As can be seen, along with the explosion of start-up wave, is a great demand for spacious workspace for start-up companies.
In the commercial service apartment segment, in the area of ​​Saigon South, which has just appeared for about 3 years, it has attracted the investment of a series of real estate brands such as Novaland, Hoang Anh Gia Lai and Phu My. Hung, Hung Loc Phat, Hong Ha, Dong Duong, …. According to CBRE statistics, in the last 3 years, about 12,000 Officetel units entered the market. According to the survey, this type of Officetel is very attractive to investors.
Most serviced apartments of these enterprises only cost 1 billion -1, 5 billion VND / unit. Homebuyers only have to spend 300 – 500 million initially to own a space, both working and inspiring. The rest can borrow from banks and pay installments of 5-10 million / month, much lower than current office rental rates.
Currently, many businesses also market a health-friendly office apartment model such as "Detox Service Apartment" of Green Star Sky Garden project adjacent to Phu My Hung urban area that is good for health and mental employee work.
"Detox Service Apartment" in the center of Phu My Hung district 7, adjacent
Each Officel apartment apartment at Green Star Sky Garden has a price of about 1.4 – 1.6 billion VND / unit with an average area of ​​50 m2, especially the ceiling height of the project up to 6.5m in accordance with both the needs of office, and the need to stay. These apartments are equipped with beauty and health care facilities.
Another plus point of the project, this office apartment is located in the middle of a green space of nearly 11,000m2 with a landscape lake of over 6,000 m2. The above-mentioned green space fund brings comfort and fresh space, a shield to protect residents from dust, dust pollution, guarantee for office workers, and a working space in Healthy, pure create the highest creative substance.
Not only owns a healthy, pure and comfortable working space, the paradise office buildings also fully integrate utilities such as Fitness Zone, Detox Center, Spa, … to enhance health, care beauty, body purification and energy recovery.
Therefore, although only introduced to the market, but according to information from distribution agents, this project has hundreds of investment customers interested in office apartments due to owning reasonable prices and calculating Good liquidity.
Also according to JLL, in the next 3 months, office rental prices in HCMC will continue to rise because there is no new ground to meet the huge demand of tenants. Supply of Grade A and B offices in HCMC will continue to fall into scarcity
VnEconomy